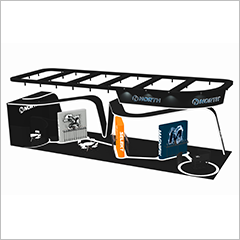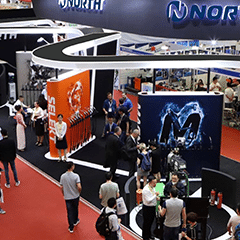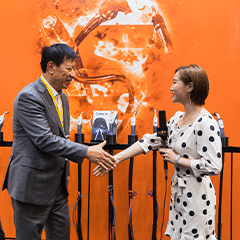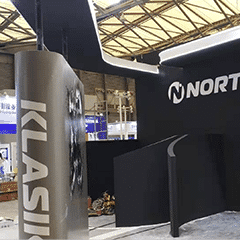 Shanghai Welding and Cutting Fair was out of this world for North Welding Tools Co Ltd and being on the North stand just topped off the experience; and not just for North staff but for everyone that visited our booth.
There was excitement and anticipation from the get go. Our booth created a lot of buzz with its distinct Black, Bold and Contemporary design. An absolute beauty.
It was certainly the booth to go to. Just ask CCTV. They were among the first to recognize it and immediate swarmed on Mr Mao for an interview.
Our 3-tier strategy was unmistakably on display. From the tranquil dark blue pillar displaying our Magnifik range to the loyal orange showcasing our complete Selekt range and of course our founding Klasik range on the neutral grey pillar.
We demo tested our fume extraction torch. Customers were delighted to see such a great product. We are really happy with the reception this product received from visitors.
Undoubtfully they will be even more surprised with the next generation fume torch when it comes out later this year both in MIG and TIG torch version.
As we look forward, with Norths achievements over the past few years, there's no limit to what we can achieve. Our foundations now are solid and its really easy to see what is possible.
Thank you to our existing customers through the years: and welcome to our new partners however small or big. We look forward to working with all.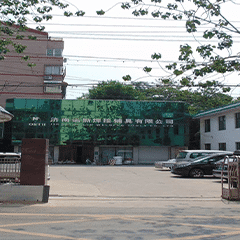 After many years operating from our facility south of the yellow river and close to the Jinan city centre, Jinan North finally made the decision to close the old factory.
This closed the chapter on the very hard work and humble beginning that is the story of Jinan North.
Some really good opportunities began here for the business. Real-estate was really tight; operating some 2500 m2 of really cramped space but the outcome had been really good and certainly set up the next phase of our growth.
We now boast a new floor space (4) four times the original Jinan North old factory.
All our work is on one single level allowing us to improve many of the functions that were previously somewhat handicapped due to the multi-story building. We've streamlined the flow of work allowing us to take advantage of some real efficiency improvements; that are being utilised for improved competitiveness and drive for new product development .
We welcome you to our new facility located north of Jinan city.